Catégorie
DATAIA Seminars
DATAIA Seminar | Angshul Majumdar
Bandeau image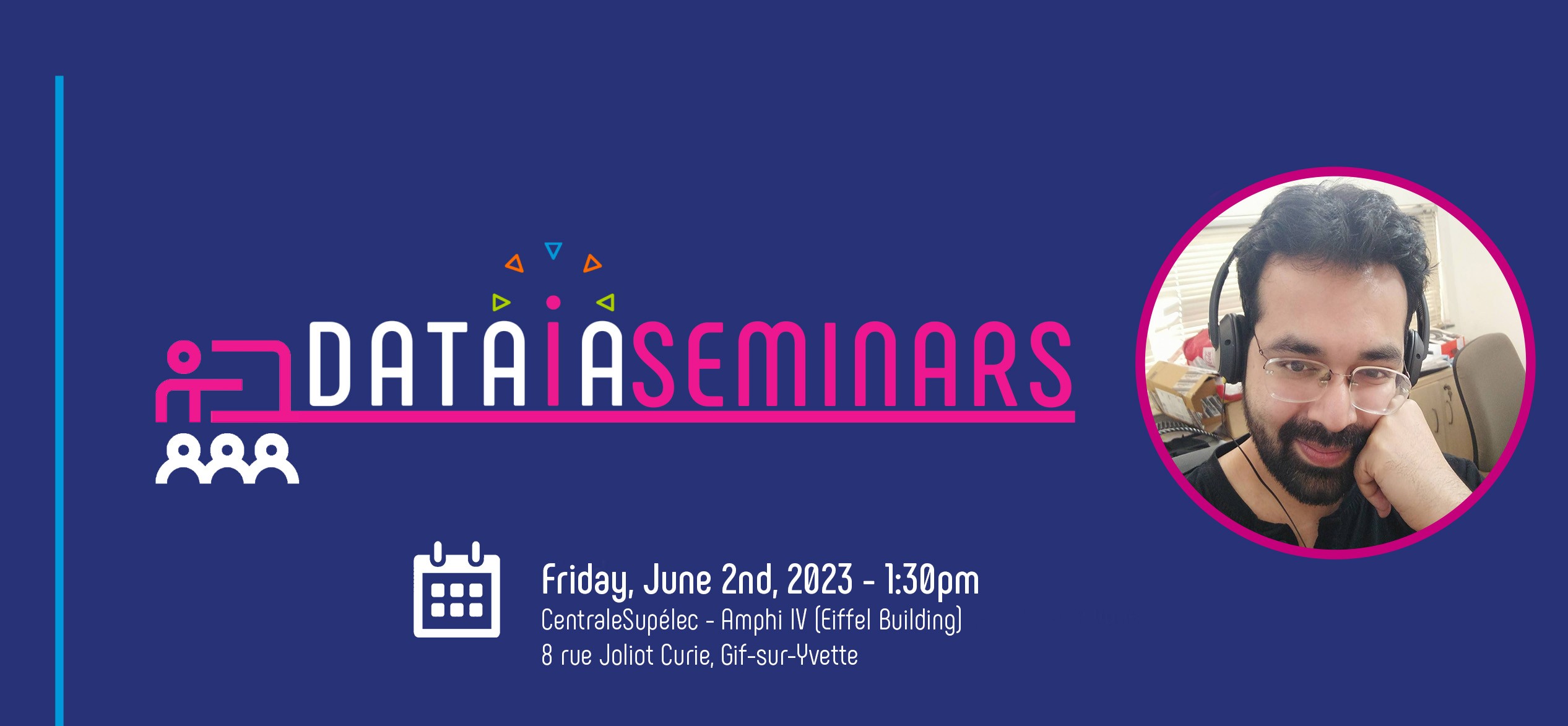 DATAIA Seminar | Angshul Majumdar
Lieu de l'événement
CentraleSupélec, Gif-sur-Yvette - Amphi IV, Eiffel build.
Date de l'événement (intitulé)
June 2nd, 2023 - 1:30pm
Chapo
As part of its scientific activities, the DATAIA Institute organizes seminars throughout the year to discuss AI.
Contenu
Corps de texte
Angshul Majumdar - IIIT Delhi, India - is a professor at Indraprastha Institute of Information Technology, Delhi. His primary interests are in signal processing and machine learning with applications in smart grids, computational biology and remote sensing. He is currently serving as the Director of Student Services within IEEE Signal Processing Society.
Angshul Majumdar is the co-PI, with Emilie Chouzenoux (Inria Saclay), of the Inria International Associate Team Compass, for investigating AI tools for drug discovery problems. 
---
Title: Signal Processing Approaches for Non-Intrusive Load Monitoring
Abstract: In this talk, we will discuss about Non-Intrusive Load Monitoring (NILM) / energy disaggregation. The problem is to estimate the consumptions of individual appliances given the total consumption recorded by the smart-meter. It is a single channel (smart-meter) blind source (appliance) separation problem; it is inherently under-determined. The usual approach is to perform an intrusive training phase followed by a non-intrusive testing phase. We will discuss various alternative approaches, based on artificial intelligence, that have been used over the years to solve this problem. Further, we will discuss some recent techniques that aim to make the training phase non-intrusive as well.
Ancre
Practical information
Corps de texte
The seminar will take place on Friday, June 2, 2023 at Amphitheatre IV (Eiffel building) of CentraleSupélec, Gif-sur-Yvette at 1:30 pm.
Registration is mandatory, subject to availability!
Corps de texte
Don't miss the announcement of a new DATAIA seminar!
Sign up for our seminar mailing list by clicking here.