SEMINAR | Artificial Intelligence Critical
Bandeau image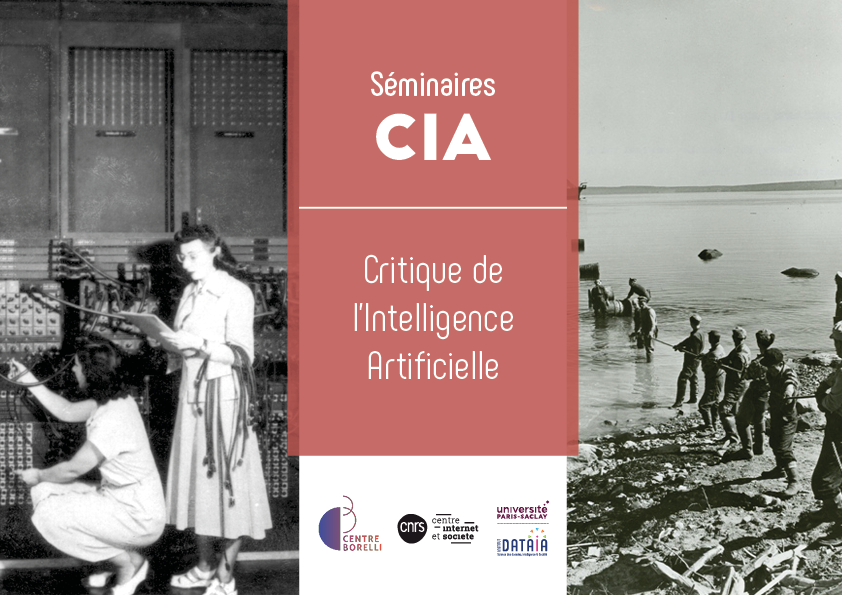 Crédits bandeau
Institut DATAIA | ENS Paris-Saclay
SEMINAR | Artificial Intelligence Critical
Next seminar: TBA

Previous themes addressed

Events on the same topic
Lieu de l'événement
Hybrid: ENS Paris-Saclay and online (via Zoom)
Date de l'événement (intitulé)
TBA
Chapo
A seminar to discuss and question the societal, political, ecological, ethical and philosophical issues of digital technology and AI.
Contenu
Corps de texte
Launched in 2021 by Marie GARIN, 5th year PhD student at ENS Paris-Saclay, the seminar "Critique of Artificial Intelligence" (CIA) aims at questioning the societal, political, ecological, ethical and philosophical stakes of digital technology and AI, as well as the relationship of our society to technology, through an approach inspired by critical theory.
This seminar is accessible to all, upon registration and online via the Zoom platform.
An event organized in partnership with the Ecole Nationale Supérieure de Paris-Saclay.
---
Contacts
marie.garin@ens-paris-saclay.fr
For this new year, the seminar is co-organized with Félix Tréguer, sociologist : felix.treguer@sciencespo.fr
Ancre
Previous themes addressed
Corps de texte
January 24, 2023 - Digital agriculture: a promise for a new spirit of productivism.
Speakers: Théo Martin and Thomas Borrell. Since the end of the 2010s, digital agriculture has experienced a significant boom, characterized by the creation of companies, research mechanisms and also the placing of digital agriculture on the public policy agenda. Although the deployment of these innovations remains very heterogeneous and our knowledge of their effects is limited and mixed, digital agriculture is asserting itself through a discourse that holds promise for the future. Digital agriculture is thus part of the economy of techno-scientific promises. We propose here to describe the singularities of this promise and to analyze how it renews the spirit of an agricultural productivism in crisis.
November 29th, 2022 – Environmental impacts of digital technology: between consensus and controversy.
Speaker: Bastien Béchadergue. Lecturer at the University of Versailles Saint-Quentin since 2020. He teaches in the Networks and Telecommunications Department of the IUT of Vélizy, and conducts research activities on wireless optical communications at the Systems Engineering Laboratory of Versailles. He has also completed a Master's degree in Sociology of Science at EHESS between 2019 and 2021.
Speakers: Mohamed Abdalla, Lê Nguyên Hoang and Aurélien Bellet. This session is based on a recent news about privacy-preserving machine learning. A work of scientific misinformation in this field has been done by Lê Nguyên Hoang, who summarized his work in this recent video. His arguments are supported by a theoretical work, discussing the non-compatibility between high performance and security/privacy, done with his co-authors and which gave rise to this publication: "On the Impossible Security of Very Large Foundation Models".
March 16th, 2022 – Environmental crisis and digitalization, the case of AI. – Rediffusion
Speakers: Anne-Laure LIGOZAT, Senior Lecturer in Computer Science at ENSIIE and LISN, where she is also the Sustainable Development Referent. After being interested in automatic language processing, her research topics are currently focused on the environmental impact of digital technology. She recently co-published the article "Unraveling the hidden environmental impacts of AI solutions for environment" and Gauthier ROUSSILHE, Researcher on the issue of environmental impacts of digital technology at RMIT and at the Centre de Recherche en Design (ENS Saclay, ENSCI). He is also a digital services designer and consultant. His reflections were first articulated around the ethical issues of design. He notably directed the documentary Ethics for Design in order to question the responsibility of designers. He is currently studying how the environmental crisis is changing the design and maintenance of digital systems.
February 16th, 2022 – Who is working behind artificial intelligence? Ethical and societal dimensions of an emerging production mode. – Rediffusion
Speaker: Paola TUBARO, teacher-researcher at the CNRS, within the Interdisciplinary Laboratory of Digital Sciences (LISN). An economic sociologist, she uses social network analysis to shed new light on contemporary transformations in communities, markets and organizations. Her current research focuses on the economics of digital platforms, global supply networks in the artificial intelligence industry, the role of human labor in the development of automation, and inequalities in access to data. She is also interested in ethical issues related to artificial intelligence, big data and networks, and their methodological implications for the social sciences.
February 2nd, 2022 – The pursuit of efficiency in the Anthropocene. – Rediffusion
Speaker: David BOL, Professor at UCLouvain. D. in engineering sciences, he was a visiting post-doctoral researcher at the UC Berkeley Lab for Manufacturing and Sustainability. He is actively involved in the socio-ecological transition of ICT (Information and Communication Technologies). After a reminder of the different mechanisms that link the digital transition to climate change, he will give us his vision of research and innovation in the Anthropocene era.
January 19th, 2022 – The revenge of the neurons. A socio-technical history of AI. – Rediffusion
Speaker: Dominique CARDON, Professor of Sociology at Sciences Po and director of the MediaLab research laboratory at Sciences Po. He was a researcher at the Orange Labs' SENSE Laboratory and an associate professor at the Université Paris Est/LATTS (Laboratoire Techniques, Territoires et Sociétés). He was also an affiliated member of the Center for the Study of Social Movements at EHESS. Since 2010, his work proposes to conduct a sociological analysis of web and big data algorithms aiming to understand both the internal form of calculations and the world that calculators project on our societies. He conducts thematic and methodological research exploiting and questioning the place taken by digital technology in our societies. His research also focuses on the transformation of the media space and the new circuits of digital information. He is a member of the editorial board of the journal Réseaux and of the prospective committee of the CNIL.
November 24th, 2021 – Algorithmic governance, Internet technologies, what tools of power? – Rediffusion
Speaker: Francesca MUSIANI, PhD in socio-economics, research fellow at CNRS and deputy director of the CNRS Internet and Society Center, which she co-founded in 2019. She is also an associate researcher at the Centre de sociologie de l'innovation (i3/MINES ParisTech) and a Global Fellow at the Internet Governance Lab of the American University in Washington, DC. Since 2006, her work has focused on Internet governance, from an interdisciplinary perspective that draws on information and communication sciences, science and technology studies (STS) and international law. His recent research focuses on the development and uses of encryption technologies in messaging tools, "digital resistance" to surveillance and censorship in the Russian Internet, and the governance of Web archives.
November 10th, 2021 – After the deluge. Doing research in the digital age. – Rediffusion
Speaker: Étienne OLLION, Political sociologist and permanent researcher at the Centre National de la Recherche Scientifique (CREST) and professor at the École Polytechnique. His work focuses on the State and power, as well as on the digitization of science and contemporary societies. In parallel, he conducts research on digital data and artificial intelligence, for example by critically examining the so-called Big Data revolution. He is a pioneer in the development of computational social sciences in France, both in terms of research and teaching.
Date de l'événement (intitulé)
February 9th, 2023 - 2pm to 3:30pm
Chapo
The ML4DH journal club brings together researchers, teachers, PhD and postdoctoral students from Sorbonne University and other institutions and organizations interested in the intersection of machine learning and digital humanities.