Catégorie
DATAIA Workshops
DATAIA Workshop « Multi-OMICS, Health & AI »
Bandeau image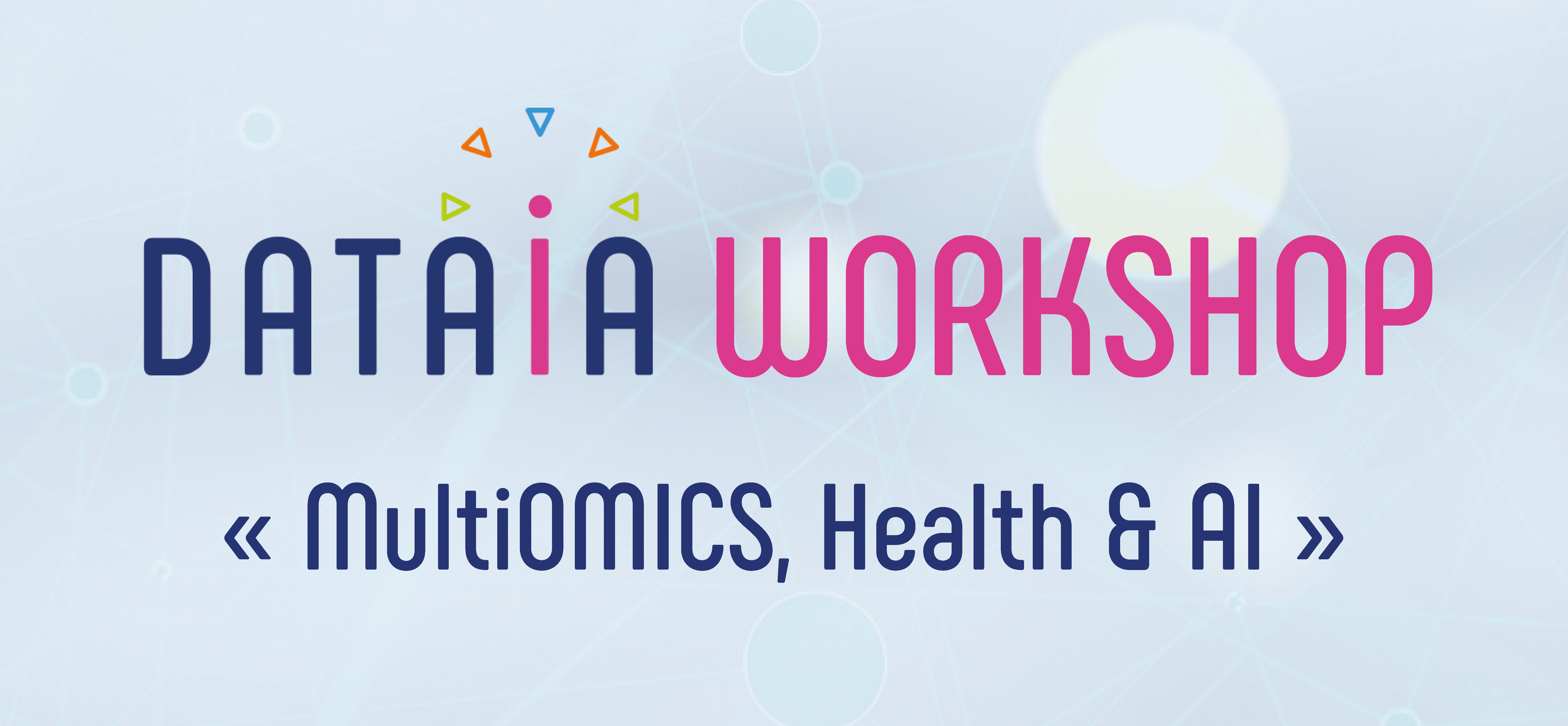 DATAIA Workshop « Multi-OMICS, Health & AI »
Date limite d'inscription
Closing date for registration : 05.11.20
Lieu de l'événement
Remotely // URL sent after registration
Date de l'événement (intitulé)
5 November 2020 - 13.30
Chapo
The DATAIA Institute, in collaboration with Sarah Cohen Boulakia (Paris-Saclay University, LRI) and Christophe Ambroise (Université d'Évry Val d'Essonne, LaMME) is organizing the first edition of the DATAIA Workshop « Multi-OMICS, Health & AI ».
Contenu
Corps de texte
This workshop is part of the DATAIA Workshops « Life Sciences & AI », a series of thematic events aiming to bring together scientific communities, experts and professionals from the disciplines concerned to share knowledge and challenges in these fields, consolidate a locally rooted research community and pave the way for the construction of joint projects.
Corps de texte
The event will be a half-day long - starting at 14.00.
Due to the latest announcements, the event will be held 100% remotely. The link to the conference will be sent by e-mail only to the registered people.
The program of the day includes academic and industrial perspectives on the subject: a keynote, a methodological session, and a session on the needs raised by the field.
We are sorry to inform you that due to last-minute impediments, we had to cancel Chloe-Agathe Azencott keynote.
Corps droite
Introduction by Bertrand Thirion (Institut DATAIA), Sarah Cohen Boulakia (Université Paris-Saclay, LRI) and Christophe Ambroise (Université d'Évry Val d'Essonne, LaMME)
Corps droite
Needs session :
« AI for microbiome data science » - Magali Berland (INRAE)
« Apports et défis liés à l'usage de l'Intelligence Artificielle en recherche biomédicale : exemples applicatifs en oncologie et gériatrie » - Etienne Audureau (APHP)
« K-mers: a common language for all omics » - Daniel Gautheret (Université Paris-Saclay)
Corps droite
Methodological session :
« Deep learning multi-omics data integration for phenotype prediction » - Blaise Hanczar (Université d'Evry Val d'Essonne)
« Integrating hierarchical information in the analysis of microbiome data » - Mahendra Mariadassou (INRAE)
« Binacox: automatic cut-points detection for improving prognostication from omics data » - Agathe Guilloux (Université d'Évry Val d'Essonne)
Corps droite
Industrial needs and solutions session
« Recherche translationnelle du microbiome humaine : possibilités et défis » - Francesco Strozzi (Enterome)
« Integration and querying of multi-omics data using AskOmics » - Charles Bettembourg (Sanofi)
Catégorie
DATAIA Workshops
Date de l'événement (intitulé)
13 December 2021
Chapo
Participate in the 3rd DATAIA Workshop "Safety & AI" on 13 December 2021.