Catégorie
International partnerships
28.03.18
Ivado and DATAIA sign a partnership
Bandeau image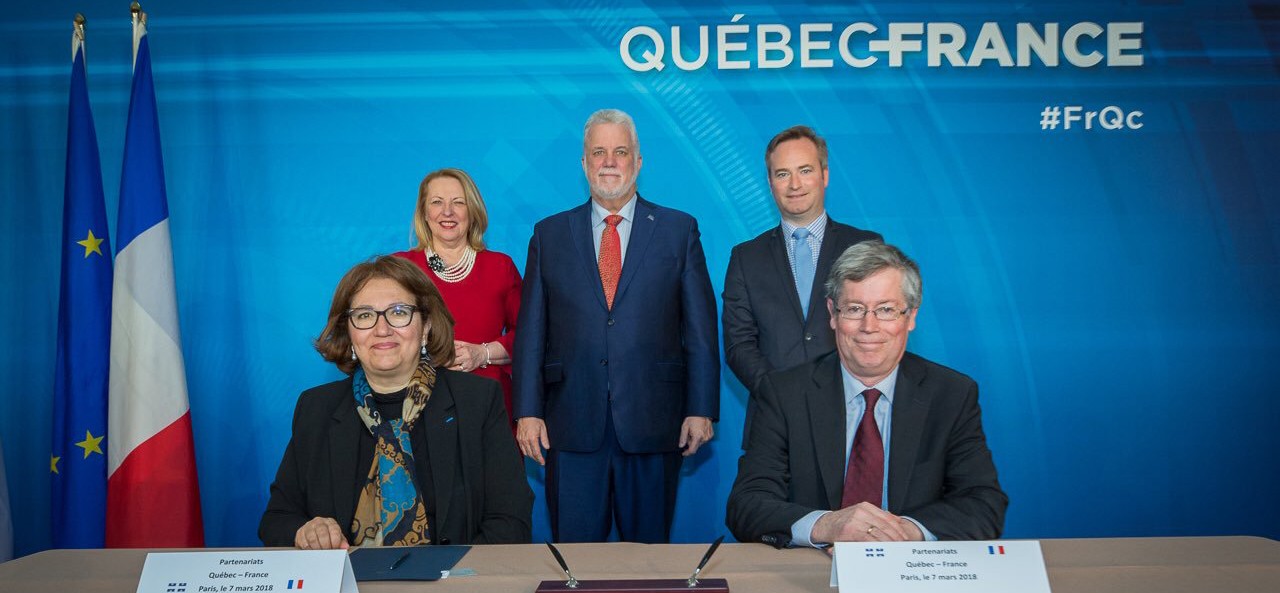 Ivado and DATAIA sign a partnership
Chapo
During the visit of the Quebec Prime Minister, Philippe Couillard, in Paris, the two institutes signed, on Wednesday, March 7, 2018 at the Chambre du Commerce et de l'Industrie, a memorandum of understanding for the strengthening of science and innovation partnerships between France and Quebec.
Contenu
Corps de texte
DATAIA, the French convergence institute on data sciences, artificial intelligence and society, and IVADO, the Quebec institute for data valorization, recognize the close thematic proximity of their actions and the interest of a strategic and sustainable collaboration on responsible AI. They agree to develop joint actions aimed at strengthening scientific and innovation synergies. According to Nozha Boujemaa, director of the DATAIA Institute, "it is a strategic and structuring alliance around responsible AI between academic and industrial collectives".
The partnership agreement between the two parties aims to develop multi-year exchange programs between DATAIA and IVADO including:
Mobilities of scientists from several weeks to several months between the two institutes
Joint organization of thematic workshops according to shared scientific priorities
Joint preparation of a special edition of a scientific journal on the links between data science, AI and society; and eventually the creation of an international interdisciplinary journal with other partner institutes around the world.
Preparation of joint research programs, which could be the subject of synchronized calls for projects between the two institutes.
Witness to this partnership, Quebec Premier Philippe Couillard points out:
Texte citation
The data is the new gold of this century.
Corps de texte
Créer de tels partenariats qui favorisent l'échange de compétences en science des données pour faire avancer la recherche dans ce domaine est au cœur des préoccupations de l'Institut DATAIA.
Catégorie
International partnerships
05.07.18