2nd Annual AI/Data Science PhD Day [UDOPIA]
Bandeau image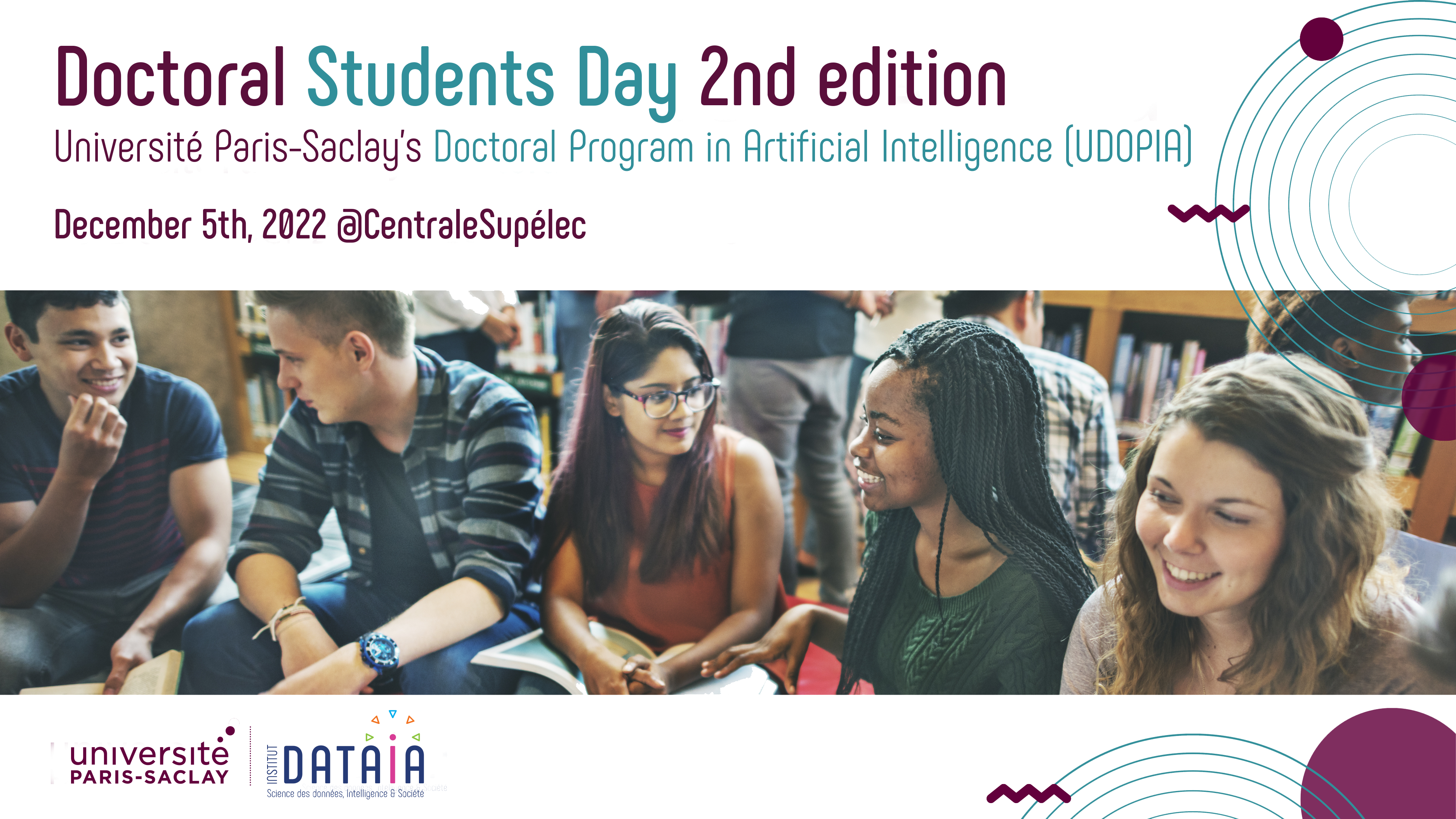 2nd Annual AI/Data Science PhD Day [UDOPIA]
Registrations

Events on the same topic
Date limite d'inscription
Closing date for registration : 30.11.22
Lieu de l'événement
Auditorium 3 Michelin - CentraleSupélec
Date de l'événement (intitulé)
December 5th, 2022 - 9:30am to 6:30pm
Chapo
After the success of the 1st edition in December 2021, the annual UDOPIA Doctoral Day, a doctoral program in artificial intelligence at the University of Paris-Saclay, is back on December 5, 2022!
Contenu
Corps de texte
Winner of the call for programs "doctoral contracts in AI" launched by the ANR in June 2019, the UDOPIA program already gathers a community of more than 120 PhD students. 
This event organized by and for students aims to federate the growing community of young researchers in AI and data science on the perimeter of the University Paris-Saclay.
---
This event is open to all the community of young researchers in AI on the perimeter of the University Paris-Saclay and in particular to students whose thesis project has been labeled in the framework of the UDOPIA program. 
Corps de texte
Deadline for registration: November 30th, 2022 CLOSED REGISTRATIONS
Image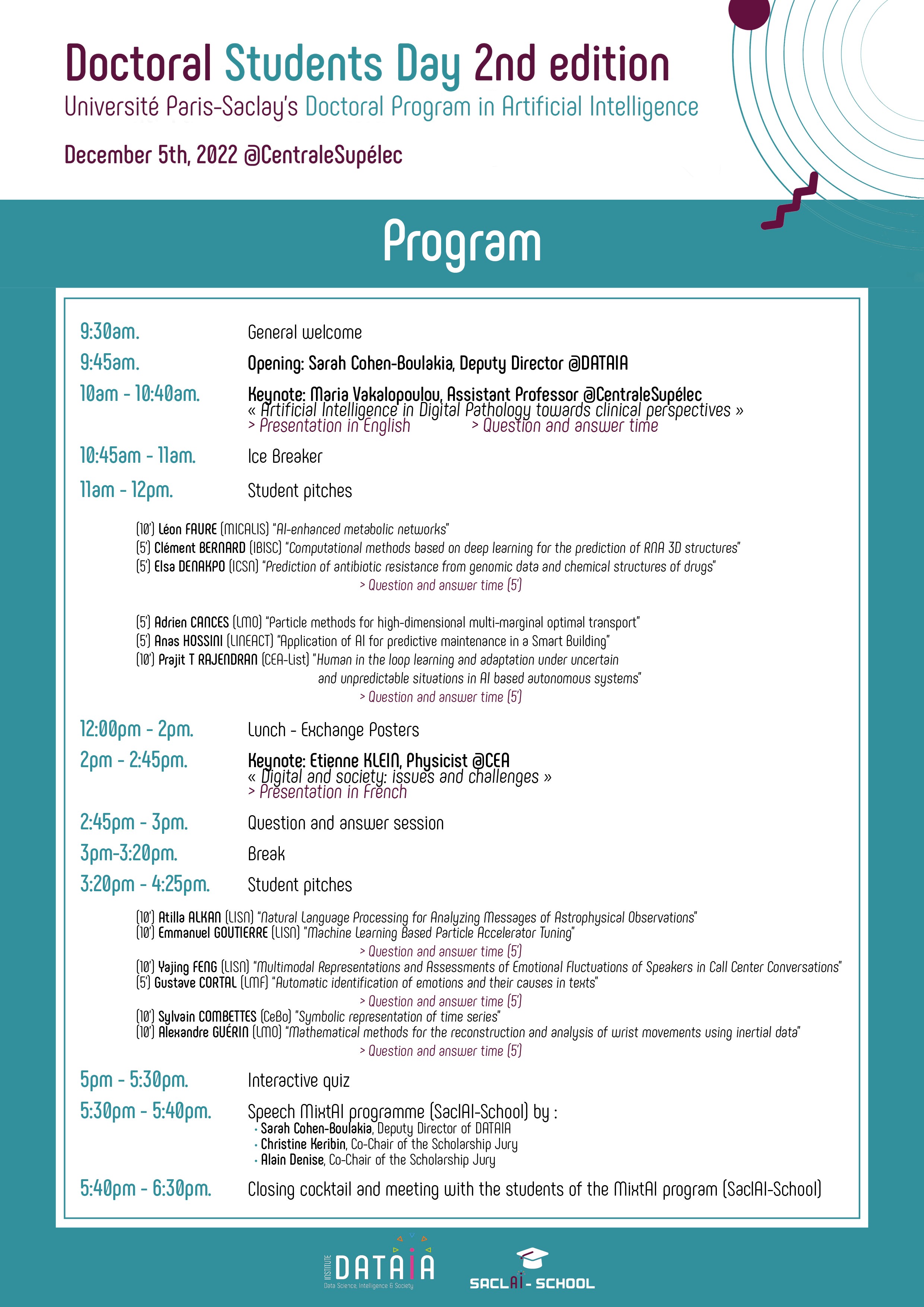 Nom de l'accordéon
10am/10:40am - Keynote : Maria Vakalopoulou "AI in digital pathology towards clinical perspectives"
Texte dans l'accordéon
Maria Vakalopoulou received the Engineering degree and the PhD in Computer Science and Remote Sensing from the National Technical University of Athens, Greece, in 2012 and 2017, respectively. She is an Assistant Professor of Artificial Intelligence at the Laboratory of Mathematics and Computer Science, CentraleSupélec, Gif-sur-Yvette, since 2019.
Her research interests include machine and deep learning, medical imaging and remote sensing. Dr. Vakalopoulou has published her research in leading international journals and conferences and has received several awards for her research contributions. She has been an area chair in several conferences and a reviewer in several journals and conferences in the fields of medical imaging, remote sensing and artificial intelligence.
Nom de l'accordéon
2pm/2:45pm - Keynote : Etienne Klein "Digital and society: questions and challenges"
Texte dans l'accordéon
Étienne Klein is a French physicist and philosopher of science. He studied at the École Centrale Paris, from which he received his engineering degree in 1981. He also obtained a DEA in theoretical physics from the University of Paris-Sud in 1982, a PhD in philosophy of science from the University of Paris-Diderot in 1999 and the habilitation to direct research (HDR) in 2006. He joined the French Atomic Energy Commission (CEA) in 1983. He is currently director of the CEA's Matter Sciences Research Laboratory in Saclay, while leading an intense career in popularizing the issues raised by contemporary physics, particularly quantum and particle physics.
At the same time, he taught quantum physics and particle physics, then the philosophy of science at the École Centrale de Paris. Through his books and lectures, he presents to an informed but also wider public different aspects of quantum physics, the major issues of contemporary research. Since September 2014, he hosts the program "Science en questions (La Conversation scientifique)" on France Culture.
Date de l'événement (intitulé)
February 9th, 2023 - 2pm to 3:30pm
Chapo
The ML4DH journal club brings together researchers, teachers, PhD and postdoctoral students from Sorbonne University and other institutions and organizations interested in the intersection of machine learning and digital humanities.