Catégorie
Conferences / Workshops
Workshop FL-Day - Decentralized Federated Learning: Approaches and Challenges
Bandeau image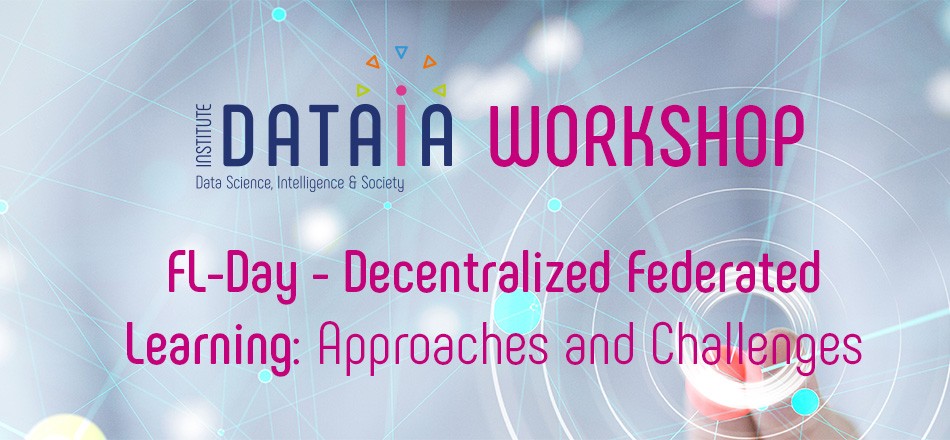 Workshop FL-Day - Decentralized Federated Learning: Approaches and Challenges
Context

Program

Organizers contacts
Lieu de l'événement
LISN : 1 rue Raimond Castaing / Rue René Thom (Digitéo Building) - 91190 Gif-sur-Yvette
Date de l'événement (intitulé)
January 10th, 2023 - From 9am to 5pm
Chapo
See you on 10th January, 2023 for a workshop on the theme: Decentralized Federated Learning: Approaches and Challenges.
Contenu
Corps de texte
This scientific day aims at a moment of exchange around the theme of federated and decentralised learning with recent developments from artificial intelligence. Organised by the ADAM team of the DAVID Laboratory as part of the DATAIA Institute of Paris-Saclay.
The day will address, through several presentations, issues related to the theme of "Decentralized Federated Learning", machine learning, decentralized data processing (Edge Computing) or data protection "privacy" in a decentralized context with illustrations in different areas. The presentations will be followed by a round table discussion. 
Participants who wish to do so are invited to propose Posters to exhibit their work during the breaks. It is possible to reuse a poster by indicating the event to which it has already been presented.
A buffet lunch and gourmet breaks will be provided throughout the day.
With the participation of the Graduate School of Computing and Digital Sciences.

Ancre
Organizers contacts