17.01.23
[REPLAY] Workshop FL-Day - Decentralized Federated Learning: Approaches and Challenges
Bandeau image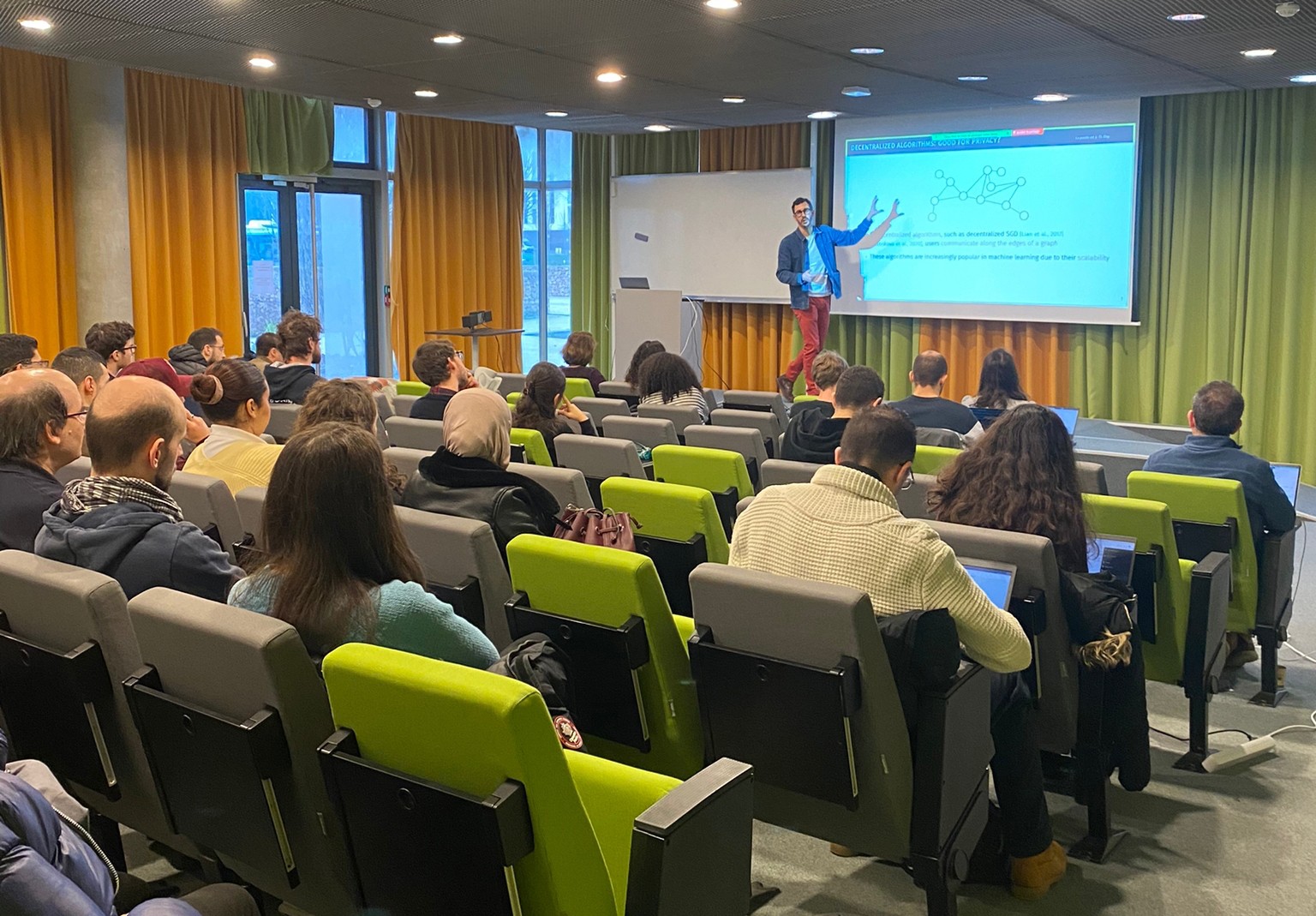 [REPLAY] Workshop FL-Day - Decentralized Federated Learning: Approaches and Challenges
Talks with guest speakers

News on the same topic
Chapo
Return on the FL-Day Workshop organized on January 10th at LISN.
Contenu
Corps de texte
Organized by the ADAM team of the DAVID laboratory - with the participation of the Graduate School of Computer Science and Digital Sciences - as part of the DATAIA Institute of Paris-Saclay, this scientific day aimed to bring together researchers and students around the theme of federated and decentralized learning with recent developments from artificial intelligence.
---
Find below the presentations of the speakers, posters presented and the replay of this day!
Nom de l'accordéon
Poster - "Towards Scalable Resilient Federated Learning: A Fully Decentralised Approach"
Texte dans l'accordéon
Divi De Lacour, Marc Lacoste, Mario Südholt, Jacques Traoré
Orange Innovation,  INRIA - IMT-Atlantique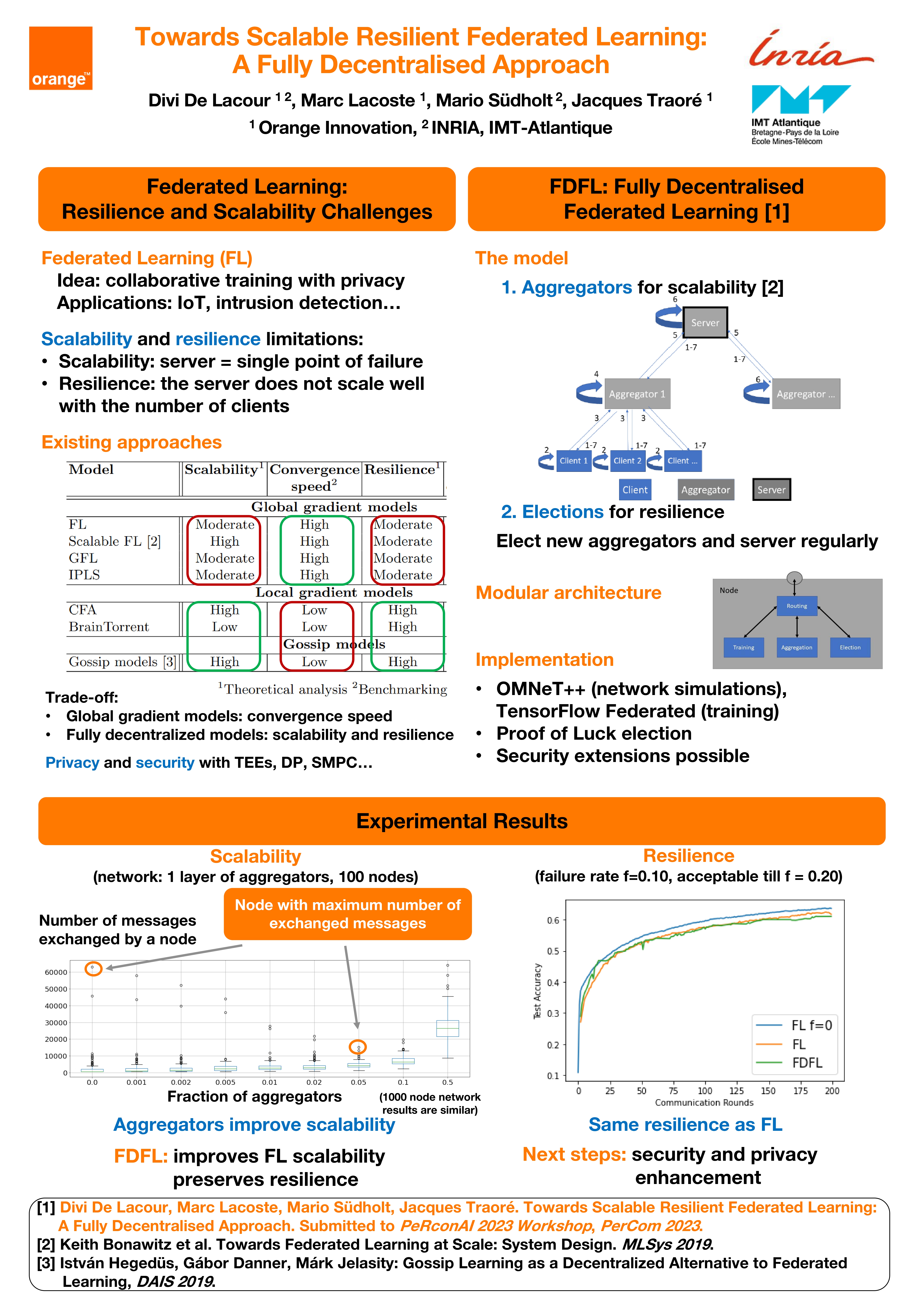 Nom de l'accordéon
Poster - "OrangeFL : Decentralized Federated Learning Platform"
Texte dans l'accordéon
Frédéric Guyard, Hugo Miralles, Philippe Romano, Tamara Tosic
Orange Innovation, Sophia-Antipolis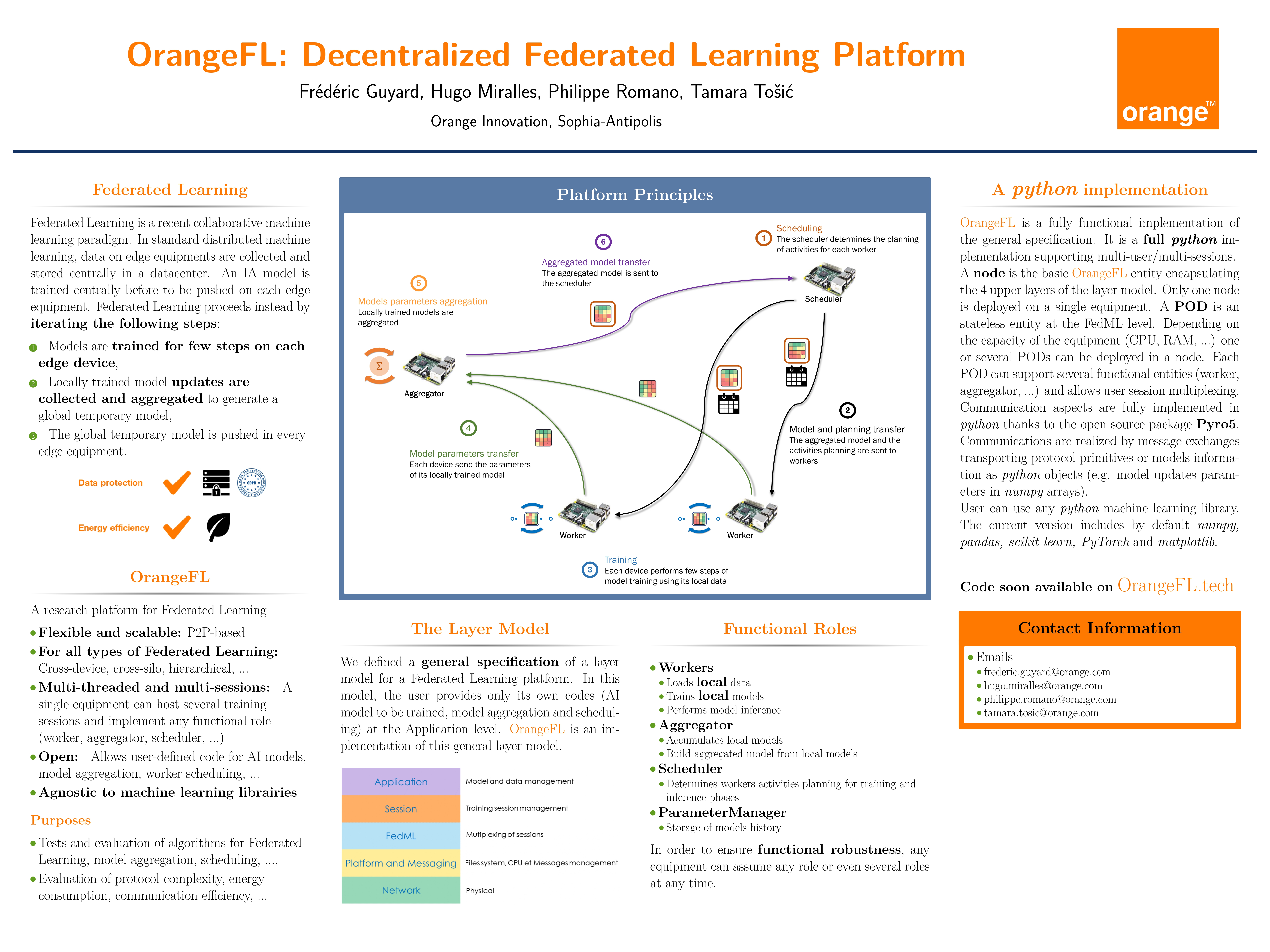 Nom de l'accordéon
Poster - "Privacy-Aware Microbiome Profiling for Colorectal Cancer Detection using Federated Learning"
Texte dans l'accordéon
Niklas Probul-1, Mathieu Almeida-2, Pauline Barbet 2, Emmanuelle Le Chatelier 2, Magali Berland 2, Christina Caroline Saak 1, Stanislav Dusko Ehrlich 4, Nicolas Pons 2, Jan Baumbach 1,3 
1 Chair of Computational Systems Biology, Universität Hamburg, Hamburg, Germany;
2 Université Paris-Saclay, INRAE, MetaGenoPolis, Jouy-en-Josas, France;
3 Computational Biomedicine, University of Southern Denmark, Odense, Denmark;
4 Department of Clinical and Movement Neurosciences, Queen Square Institute of Neurology, University College London, London, United Kingdom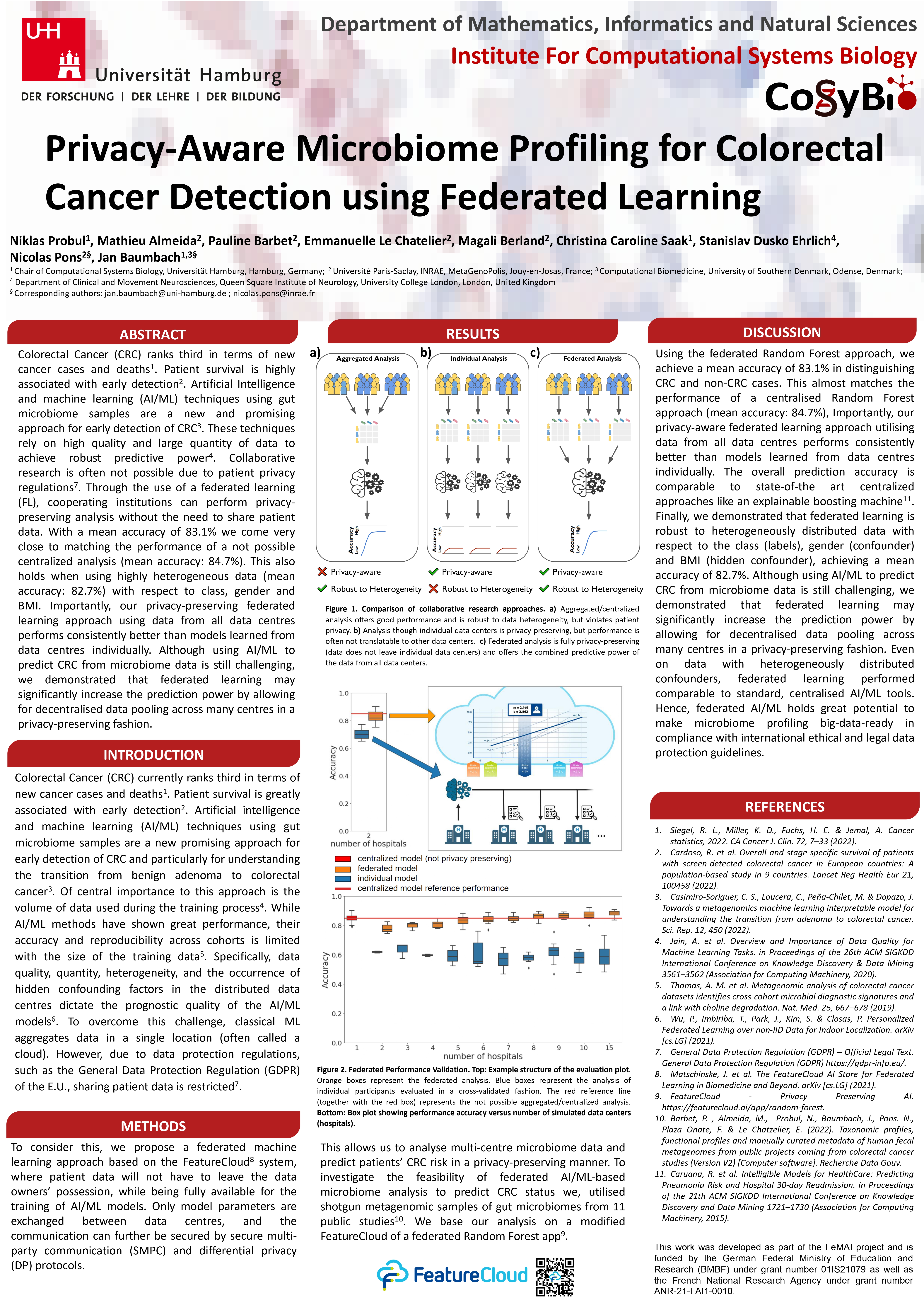 Nom de l'accordéon
Poster - "Federated learning with incremental clustering for heterogeneous data"
Texte dans l'accordéon
Fabiola Espinoza Castellon, Aurélien Mayoue, Cédric Gouy-Pailler, Jacques-Henri Sublemontier
CEA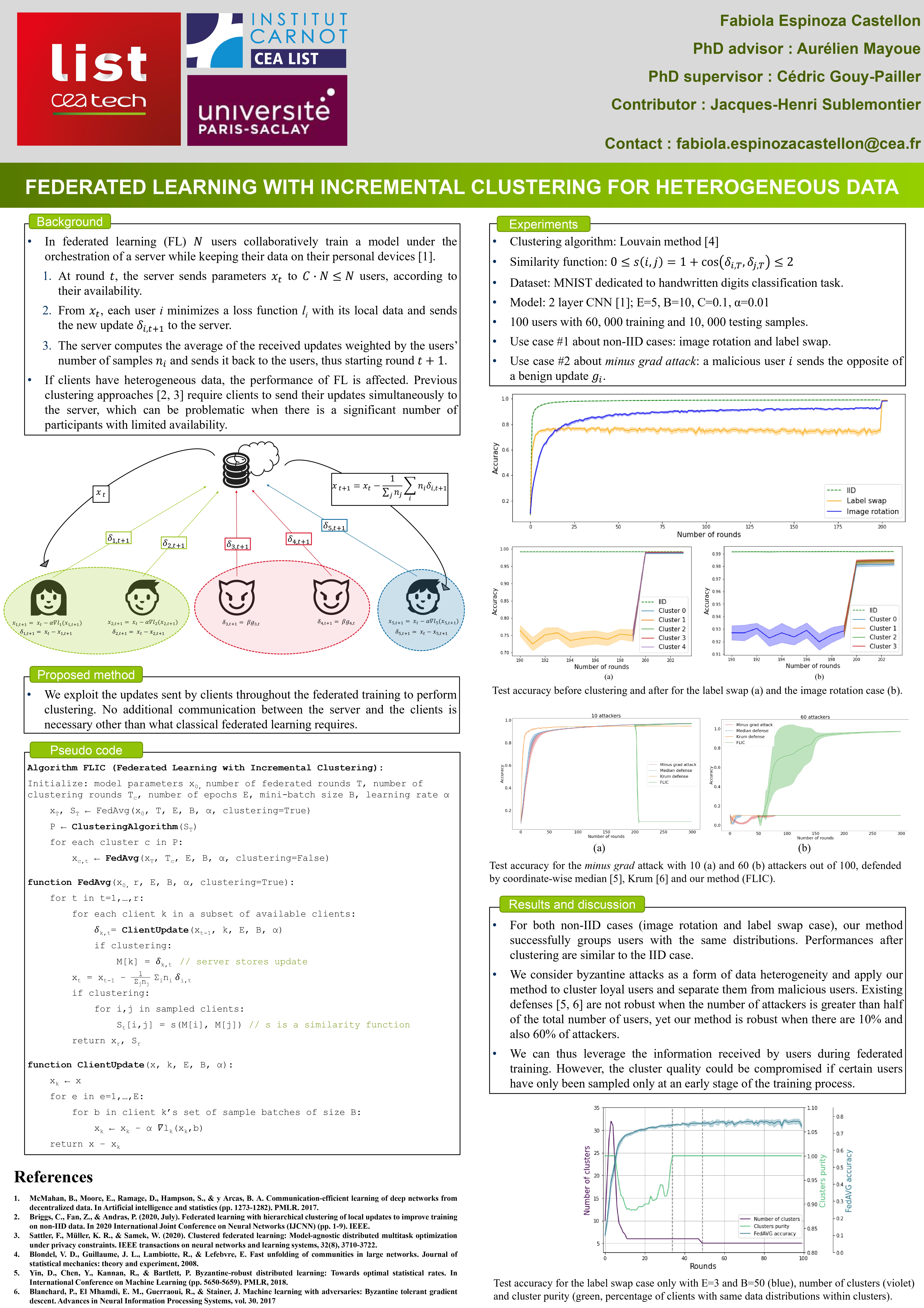 Nom de l'accordéon
Poster - "Towards a generalized responsible AI with federated learning for native protection of personal data"
Texte dans l'accordéon
Walid ERRAY (Head of Data Science DataLab & AI Factory Group), Rim BEN MANSOUR (Data Scientist DataLab)
Groupe Crédit Agricole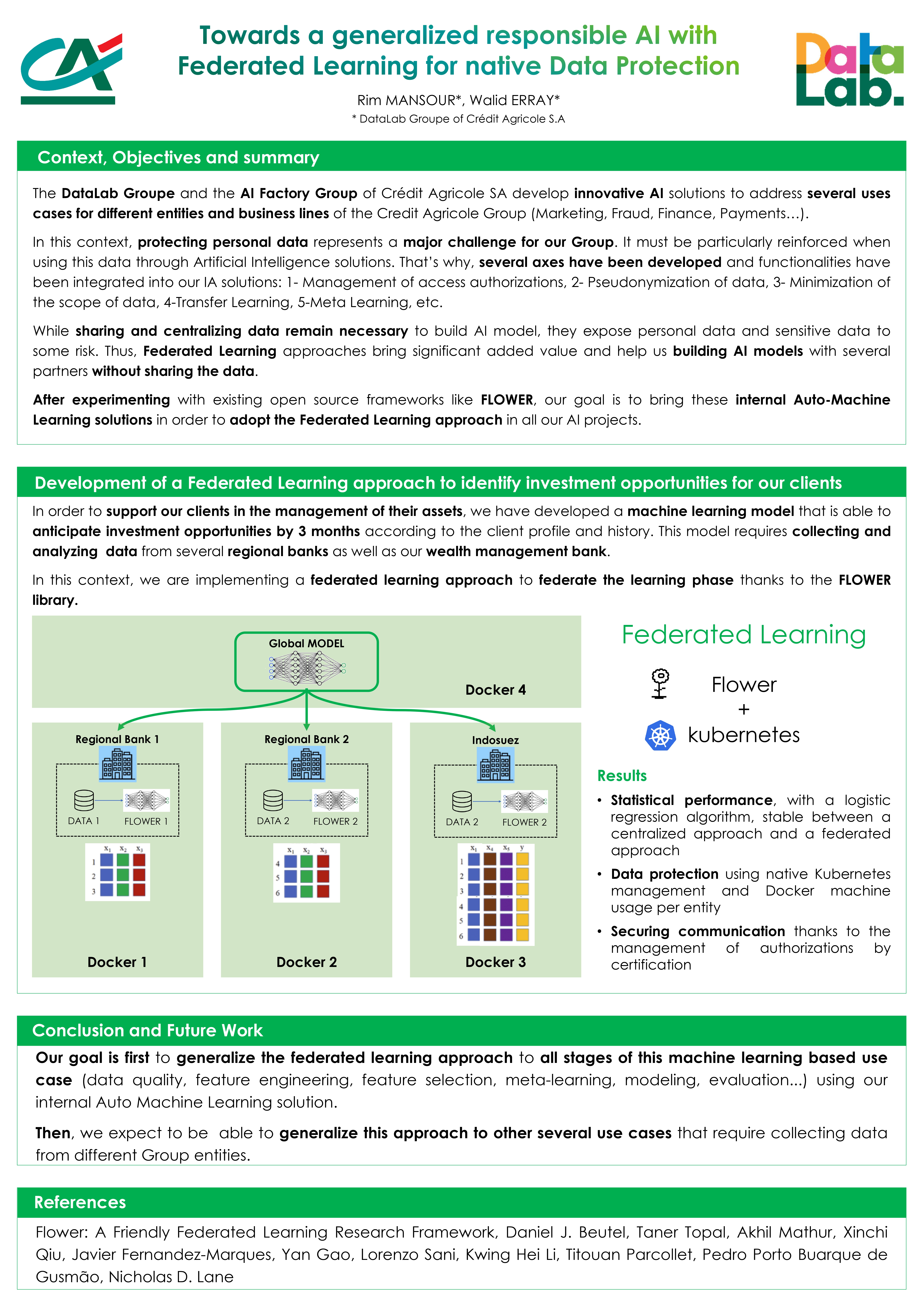 Ancre
Talks with guest speakers
Corps de texte
Aurélien Bellet - CR INRIA, équipe Magnet, laboratoire CRISTAL
Better Privacy Guarantees for Decentralized Federated Learning
---
Sonia Benmokhtar - DR CNRS, LIRIS, Lyon
Decentralized Learning (as an enabler) for Decentralized Online Services
---
Hakim Hacid - Principal Researcher, TII, Abu Dhabi, UAE (groupe AIDRC)
Towards Edge AI: Principles, current state, and perspectives